About APTA Utah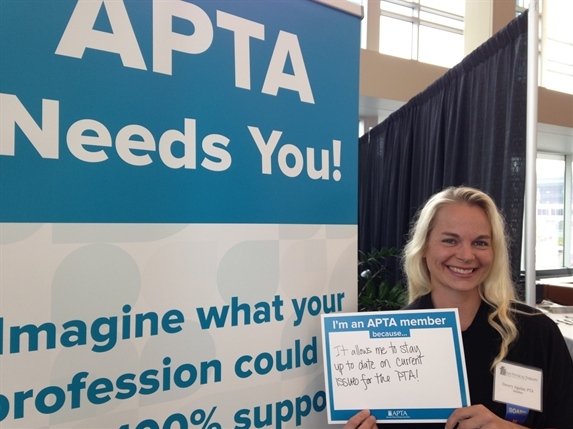 Optimizing the Delivery of Physical Therapy in Utah
The Utah Physical Therapy Association is a local chapter of the American Physical Therapy Association representing more than 1000 members. Our goal, is to promote local advancements in physical therapy practice and education.
Who We Are
The mission of the Utah Physical Therapy Association is to represent and promote the ethical practice of physical therapy and the profession's role to physical therapists and physical therapist assistants, to other healthcare professionals, and to the general public through education, communication and advocacy.
If you are a member and you wish to view the Chapter Bylaws click here.

Why Join the UPTA
The Utah Physical Therapy Association is a chapter of the
American Physical Therapy Association,
which represents more than 88,000 physical therapists, physical therapist assistants, and students nationwide. The state of Utah has roughly 1000 members. Association membership is an investment in your professional and financial well-being.
Dues are:
$395 for physical therapists
$290 for physical therapist assistants
$85 for PT and PTA students
Special dues structure for new professionals (In your first year after graduation, your dues are only one-third of regular dues).
Sign up online at the APTA web site using the
Online Membership Application.
If you prefer, a membership application to be mailed to you.

What do you receive for your dues?
Membership in the Utah Physical Therapy Association is your connection to state resources.
Discounts on UPTA continuing education programs such as the Annual Fall Conference, Spring Conference and other courses.
Access to useful information in the restricted sections of the APTA and UPTA Websites.
What is the UPTA doing for you?
While your membership investment may possibly return its cost value to you, another of the primary benefits is a voice in the future of the physical therapy profession in Utah. This voice is heard through the efforts of the association and its representatives regarding practice and reimbursement matters before the legislature and other state agencies. Below are just a few examples:
Patrolling, commenting, and lobbying to curtail efforts by other organizations who wish to pass legislation preventing physical therapists from working in the full scope of our practice.
In 2014, amended the Utah PT Practice act to allow Trigger Point Dry Needling by physical therapists in Utah with the proper training.
Continually battling and holding open discussions with various payer sources including insurance companies to oppose and, if needed, contest unfavorable fee schedules;
Stopped the application of the Medicare fee cap to workers' compensation;Work to pass an updated and more modern practice act.