Coronavirus

Coronavirus - Utah

Physical Therapy
Local - Utah
1. Utah contains open language in state regulation or reimbursement policies that may allow for Medicaid to reimburse for telerehab services.
2. CMS has not officially included Physical Therapy as a healthcare service allowed to bill codes associated with telehealth visits. There is a legislative push now to engage with CMS to waive the restrictions on PT services. Please visit HERE to help us spread the word. However, CMS has included PT through "e-visits."
"To qualify as an e-visit, three basic qualifications must be met: the billing practice must have an established relationship with the patient, meaning the provider must have an existing provider-patient relationship; the patient must initiate the inquiry for an e-visit and verbally consent to check-in services; and the communications must be limited to a seven-day period through an "online patient portal."
You can find more information HERE. We are hopeful that if CMS includes physical therapy in telehealth, the other insurance providers will follow.
3. When practicing telehealth or e-visits, you will need to be familiar with each individual insurance provider or bill on a private pay/cash schedule.
4. We urge you to be sure that any telehealth software you are using is HIPAA compliant. There are not many that are, so please inquire with the software provider.
5. Remember that when working with a patient digitally, you must either be licensed in that patient's state or confirm that the state is a member of the PT Compact. In addition, you will need to be registered to have Compact privileges in order to utilize the PTCompact. PT Compact More Information
Current Insurance Reimbursement:
University of Utah Health Plans - Telemedicine Policy
PDF of current insurance reimbursement.
Utah Insurers - Detailed Information on Reimbursement
Considerations when doing Telehealth Physical Therapy Visits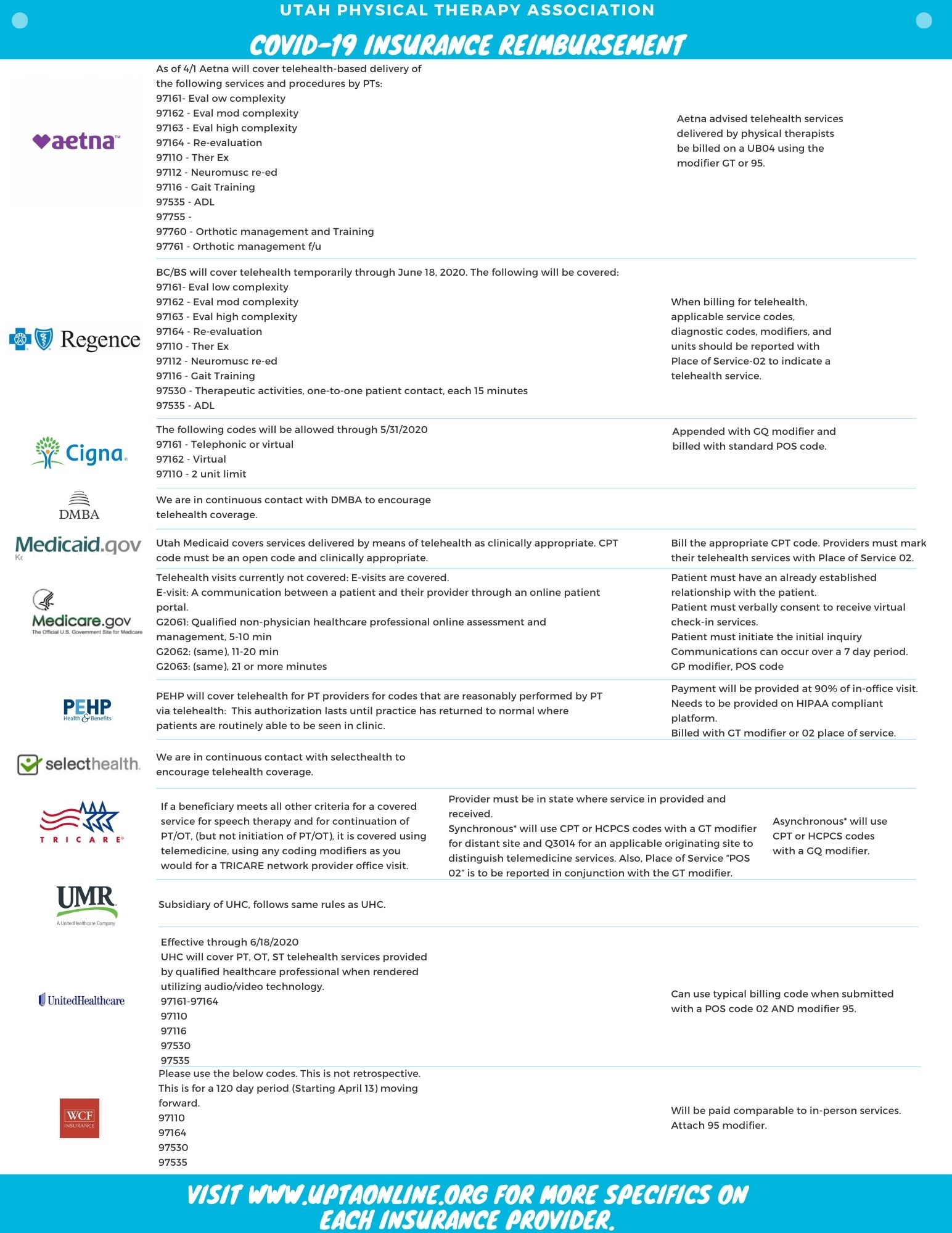 PTs and PTAs are considered Essential Critical and can continue to care for their patients using the necessary safety precautions. Utah State Directive

Medicaid - Physical Therapists are able to make Medicaid telehealth visits and we can bill these using the service location indicator of 2 . This should also appear in the Medicaid Provider Bulletin.

Utah Medicaid covers services delivered by means of telemedicine, as clinically appropriate. As long as the CPT code that you are reporting is an open code, and clinically appropriate, it can be delivered by means of telemedicine.

In order to indicate that the service was provided through telemedicine, providers must mark their telehealth services claims with Place of Service (POS) 02.

Please refer to the Coverage and Reimbursement Lookup Tool for code coverage at LINK

UHC - Currently UHC has authorized a temporary coverage. LINK

Most insurances that will be doing telehealth will require the place of service code '02' and modifier 95.

APTA has a great resource that can be used when identifying coverage for some insurance providers. LINK